The Teaching Studio
The teaching studio is equipped with: two side by side drum sets, a Bose sound-system to play along with recorded music, extensive book and video library, full length mirrored wall for technique drills with your instructor. 
My Teaching Experience
I have been teaching drum lessons in the greater Vancouver area for over 40 years now. 30 of those years as a full-time job. I was the Head Drum Teacher for Tom Lee Music from 2000-09. I have ta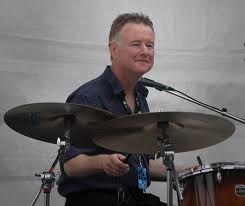 ught in various Academies throughout the lower mainland. I teach roughly 50 lessons per week. There are very few private teachers who have logged as many private teaching hours as I have. As well as private lessons, I am an instructor for the RMM Pipe Band, the youth branch of the Simon Fraser University Pipe Band Organization. I teach drum corps and school workshops throughout BC and in the U.S.A.
 Beginner to Intermediate Students
5 level certificate program – for beginner to intermediate students. The curriculum ensures that the student develops a broad based foundation in drumming. Students are taught: basic reading & counting skills basic snare drum reading & technique basic hand & foot co-ordination a repertoire of beats and grooves for common styles of playing (rock, funk, jazz, swing, shuffle, latin)
 Intermediate to Advanced Students
Students are taught: advanced hand techniques, as applied to the full drum set four way co-ordination chart reading & interpretation subtle ways technique can change a groove a wide repertoire of rhythms, both common and uncommon. 
 For Mature and Adult Students
I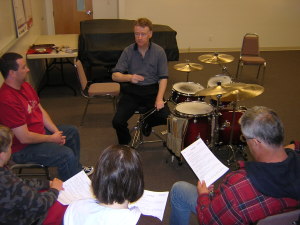 have had many adult students with no musical background decide to start drumming. Some of them are currently active playing in bands and are having the time of their lives. My lessons are thorough and easy to understand. You can make progress with a realistic practice schedule that will fit into your daily routine. If you already play drums and want to progress, I can help you develop new skills and introduce you to some styles of music you may not have tried playing.
Drum Corps and Pipe Band Drumming
As an instructor for the RMM Pipe Band,  I welcome all of my students to visit a band practice and see what drum corps is all about.
Drummers who are actively playing come and study rudimental drumming to improve their technique and discover the rudiments application to the drum set.
Two teachers available. Alec Robertson is now available for lessons. Alec is an accomplished rudimental pipe band drummer. He returned in 2012 from Scotland with the RMM Pipe Band after winning the grade 3A World Pipe Band Championships. He competes regularly in solo rudimental competitions in the top amateur grade. On drum set, he has spent time substitute teaching and assistant instructing his father's students and is fully qualified to teach the Robertson drum school curriculum.
Alec is accepting pipe band students and beginner drum set students.
Parents of Younger Students
Parents are kept informed of their child's progress. My certificate program gives the student clearly defined goals to achieve and gives the parent written record of how the student is progressing. As a father of 2 boys, I am experienced dealing with kids on a one-to-one basis. I understand the things that motivate a student and that each child can have his/her own hurdles to overcome.
 View this page from my Drum School book.